STAGE 1 DUE FOR COMPLETION EARLY 2017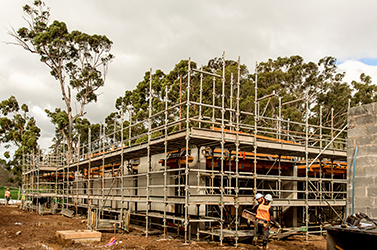 Rain rain go away! Construction and rain have never been friends, however the team at ADCO Construction are still full steam ahead with Stage 1 of Cranbrook Residences due for completion in early 2017. The neighbouring aged care residence will be opening in just a few months time.
Building One, apartments 101 to 109 (pictured) is leading the charge! The slab has been poured for the first floor. The formwork for the first floor of Building Two, apartments 201 to 208 is constructed and hot on the heels of Building One. Building Three, apartments 301 to 307 officially has a ground floor!
Formwork is complete for the structural walls to the ground level from the basement level. Building Three will also be home to the Café and Reception area. If you have visited the display suite recently, you will have noticed the pond has been drained and cleared of all material. The pond is currently being re-profiled and will be 3m deep in the central areas when the works are completed. The works also involve landscaping around the pond and the installation of two water movement devices to move the water around the pond area. It is envisaged that these works will be completed by October/November 2016 and the pond will be refilled with water. New street lights on Fairway Drive have been installed and the main service connection is imminent.