Stage 1 Construction Commences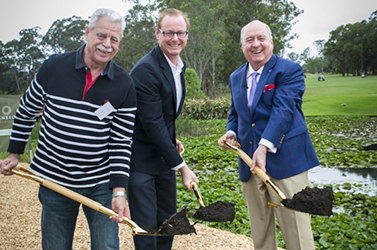 We are very excited to announce Stage 1 of the construction of Cranbrook Residences has commenced two months ahead of schedule and is due for completion in early 2017.
To mark the commencement of Stage 1, a ceremonial ground breaking was officiated by broadcaster Alan Jones on Tuesday 27 October. Residents and the management of Cranbrook Residences were joined by the ADCO Construction, architects and the project team in celebrating this milestone.
Alan Jones is pictured with future resident Paul Kirkham (left) and Campbell Meldrum, Executive Director of Cranbrook Care (centre).