Meet some of the soon to be residents of Cranbrook Residences.
MEET GEOFF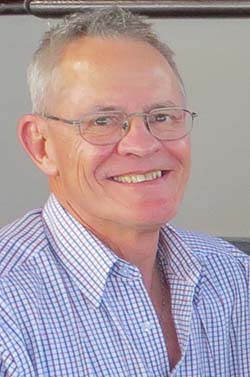 Tell us a little about yourself
I am a retired Chartered Accountant and have been lucky enough to have travelled quite extensively in my various roles on National and International Committees. Sadly I lost my wife to cancer in 2007, after 38 years of happy marriage. Since then I have resided on my own in a very comfortable four bedroom home which although very low, maintenance is still too large for one person.
What triggered your decision to enter Retirement Living?
Some long term friends of mine invited me to join them when visiting a friend in a newly constructed retirement village. This proved to be the catalyst that prompted me finally to start thinking of retirement living and to start looking at the various options. My close friend Ross Hogan accompanied me to a few places before we visited Cranbrook. Ross and his wife Ros were very impressed with Cranbrook and decided that they would like to live there. They then called me and informed me that they put their names down for one unit and had also put mine down for another. "The decision I made without making a decision".
What do you like about Cranbrook Residences?
Cranbrook appealed to me because of its location with a view of the golf course and, being not too distant from my current location, I could maintain close contact with my family and existing group of friends. Based on the display unit, I expect my unit to have quality inclusions, plenty of light and fresh air making it a cheerful and happy home. Knowing that in due course, I will have access to quality aged care was also a major consideration.
What are you most looking forward to living at Cranbrook Residences?
Living in a brand new home with good friends close by. As I enjoy travelling, I also like the fact that I can lock up and go at a moment's notice without having to worry about gardens, security etc. I am very excited by my forthcoming move and really looking forward to settling in to my new home!
MEET ROS & ROSS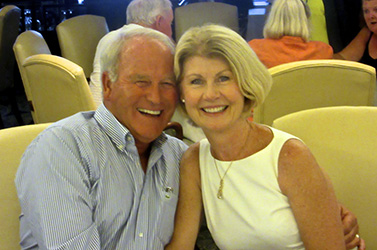 Why we bought
We were impressed with the location and design of the building. ADCO are quality builders. Our new residence had to be pet friendly and Cranbrook Residences is!
Tell us a little about yourselves?
After losing our spouses to cancer in 2009 and 2010, we were introduced by our Jenny Craig consultant, Angela (Castle Hill Branch) in October 2011. We were married in March 2014 and are now downsizing from our home at West Pennant Hills.
What triggered your decision to enter Retirement Living?
My good friend, Geoff Forder, asked me to come with him to look at retirement living. We visited a few places before we visited Cranbrook Residences. I liked Joanne's presentation of Cranbrook Residences to Geoff and asked one question, "Is it pet friendly?" Joanne replied yes and I asked for some brochures to show my wife Ros.
What do you like about Cranbrook Residences?
It offers luxury living in a great location overlooking a lovely golf course. We like the fact that it's pet friendly of course, and that you can transition from the retirement village to aged care. We also share in 50% of the capital gain once we leave Cranbrook Residences and if either spouse requires a move to aged care the other spouse can remain at Cranbrook Residences.
What are you most looking forward to living at Cranbrook Residences?
Living in a well designed new home with lovely views and fantastic facilities.
"All of it adds up to something that is very desirable in a very desirable area"